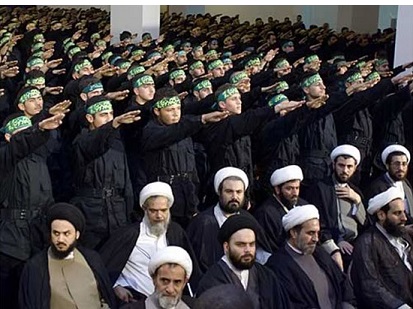 How do we stop Islam?
To stop Islam, we must stop pretending, accept the reality, make an overdue courageous decision, and take common sense measures.
Here are the 10 steps to stop Islam's spread and reverse its advances in America, Canada, UK, Europe and beyond.
1. Stop believing about Islam what Muslims tell us to believe about Islam. Instead, believe their actions, what they say to each other (see Taqiyya and Muslim Brotherhood), what the Sharia law actually dictates, and recognize that the "Religion of Peace" has declared and already is waging war against us (see War against Islam).
2. Stop fearing the unwarranted "Islamophobia" label and make the courageous decision to stop Islam now before it spreads even farther and irreversibly deeper into the West (see Spread of Islam).
3. Close or block all websites, blogs, video, photo and social media accounts that are being used to promote Jihad, incite terrorism, and recruit terrorists.
4. Stop the army of young Muslim men from flooding into the West as fake refugees, track those who are already in, and deport those who blow their cover (see Muslim refugees).
5. Block Muslim imams' access to our public schools, college campuses, armed forces and prisons; we would block any other group with ties to Adolf Hitler (see Hitler & Islam).
6. Outlaw the seditious Sharia law and prosecute for sedition all groups that promote it. Also pass laws to ban Hijab, the targeting tool for Taharrush and other sexual assaults, and to stop the islamization of our food supply (see Halal).
7. Require reciprocity of religious freedom from Islamic governments (e,g., Saudi Arabia) that are financing or building mosques and other Islamic institutions in the West; if churches can't be built there, they shouldn't be building mosques here.
If we take all seven defensive steps above but fail to take the three offensive steps below, we will lose this War against Islam.
8. Realize that Islam cannot penetrate where Christianity is strong. The entry and spread of Islam in "Christian" nations indicate a spiritual void where religiosity has replaced the True Gospel; Islam's advance is not the cause but a symptom of spiritual decay in the nations affected. Christians must repent and cry out to God, who promised, "If My people who are called by My name will humble themselves, and pray and seek My face, and turn from their wicked ways, then I will hear from heaven, and will forgive their sin and heal their land" (2 Chronicles 7:14). If we don't, the Bible warns, "Unless the Lord builds the house, they labor in vain who build it; unless the Lord guards the city, the watchman stays awake in vain" (Psalm 127:1).
9. Recognize the spiritual nature of this war and arm ourselves accordingly: "For we do not wrestle against flesh and blood, but against principalities, against powers, against the rulers of the darkness of this age, against spiritual hosts of wickedness in the heavenly places. Therefore take up the whole armor of God, that you may be able to withstand in the evil day, and having done all, to stand. Stand therefore, having girded your waist with truth, having put on the breastplate of righteousness, and having shod your feet with the preparation of the gospel of peace; above all, taking the shield of faith with which you will be able to quench all the fiery darts of the wicked one. And take the helmet of salvation, and the sword of the Spirit, which is the word of God." (Ephesians 6:12-17) To not walk into this sword fight with a nail file or barehanded, most self-declared Christians today must learn the True Gospel and sharpen their sword of the Spirit, which is the word of God" (click here).
10. Pray for Muslims and ask God to open their eyes so that they can recognize Prophet Isa as the Muslim Messiah, and witness to Muslims in our workplaces, schools and neighborhoods, as well as in Muslim countries via online chats, websites, blogs, vlogs, radio and cable/satellite programs, etc. Islam, which denies the atoning death, resurrection and deity of Jesus (see Explaining the Trinity), can never be reconciled with Christianity. One or the other will give way. If Christians don't take the True Gospel to the Muslims, they will bring us Sharia.
Related: Bible vs. Quran and Jesus vs. Muhammad