China Outreach Ministries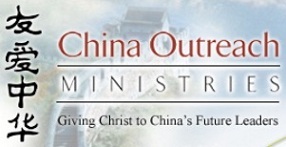 China Outreach Ministries (COM) highlights the enormous potential for ministries aimed at the Chinese students studying outside China.
What is the origin of China Outreach Ministries?
China Outreach Ministries was founded in the 1950s as the Chinese Overseas Christian Mission (COCM). In its early years, COCM / China Outreach Ministries simply funded Christian radio broadcasts into China.
When the Chinese students began to arrive at American college campuses in the late 1980s, COCM USA changed its name to China Outreach Ministries and shifted its focus to evangelizing Chinese graduate students and scholars in America. As of 2012, China Outreach Ministries fields ~70 volunteers at ~50 American college campuses.
Strength
Missionaries who go to China must deal with relocation, cultural and language barriers, Chinese government's prohibition against evangelizing and many other obstacles in order to share the Gospel with the Chinese. All of these obstacles and limitations vanish when it comes to evangelizing the Chinese students who are studying outside China.
Weakness
China Outreach Ministries estimates 150,000 Chinese "scholars and graduate students" studying in USA in 2012. According to The Washington Post, another 157,000 Chinese undergraduates are at US college campuses, a 44% rise from the previous year.
These 300,000+ Chinese comprise not only highly receptive soil for sowing the Word of God today but also potential missionaries who could soon return to China with the Gospel. COM's ~70 volunteers are far too few in number to reach these 300,000+ Chinese students across America.
While more resources should flow to COM to enable faster expansion, even its stated "long term" goal of annually returning 1,000 Chinese scholars to China as Christians would account for less than 0.3% of the 300,000+.
A faster way to evangelize the Chinese studying in America, including the undergraduates, whom COM is presently unable to reach due to resource constraints, would be for the Christian student fellowships that are already in place at American college campuses to reach out to them.
But the biggest challenge remains quality more than quantity. The average "Christian" message in America today is about health, wealth, prosperity, charismatic chaos, the "four spiritual laws" and saying a prayer once to live your best life now. It is imperative that the message reaching these Chinese be the true gospel. Otherwise, it is better for the Chinese to return to China without having heard a false gospel, as that makes it more difficult for the true gospel to penetrate them later.
The Chinese are studying not only in America but in most Western countries, whose Bible-based Christians can now serve, without leaving their homes, as missionaries to China and to Muslims.