| | |
| --- | --- |
| How old was Mary when she had Jesus? | |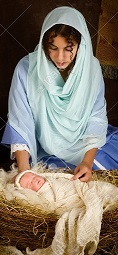 For example, how old was Mary when she had Jesus?
The Bible, as detailed below, gives us a good idea of how old Mary was when she gave birth to Jesus. By contrast, the other book claims Mary was much older than the girl on the right when she had Jesus: see below.
When approaching the question of how old Mary was when she gave birth to Jesus, it's important to recognize and to refrain from imposing on antiquity the norms of the 21st century.
In 2012, mothers' average age for the first birth was 25.6 years in the United States and 28.1 years in the United Kingdom. These ages have been rising. In the 1970s, they were about 20 years, but even 20 years is old by historical norms. Until the age of industrialization and urbanization, girls were married and began to bear children not long after their bodies became ready - i.e., the onset of menstruation - during their teenage years, and the wording in the Bible points to this range:
"Now in the sixth month the angel Gabriel was sent by God to a city of Galilee named Nazareth, to a virgin betrothed to a man whose name was Joseph, of the house of David. The virgin's name was Mary. And having come in, the angel said to her, "Rejoice, highly favored one, the Lord is with you; blessed are you among women!" But when she saw him, she was troubled at his saying, and considered what manner of greeting this was. Then the angel said to her, "Do not be afraid, Mary, for you have found favor with God. And behold, you will conceive in your womb and bring forth a Son, and shall call His name Jesus. He will be great, and will be called the Son of the Highest; and the Lord God will give Him the throne of His father David. And He will reign over the house of Jacob forever, and of His kingdom there will be no end." Then Mary said to the angel, "How can this be, since I do not know a man?" (Luke 1:26-34)
She is called a "virgin," but also "among women." When Gabriel announces her impending conception, she already is "betrothed to a man" and expresses knowledge of the need for sexual intercourse to conceive: "How can this be, since I do not know a man?"
According to the Bible, then, Mary was a teenager, most probably in the first half of her teenage years than the latter half. According to the Quran, however, she was 1,500 years old (see the details).
Related: Explaining the Trinity and Witnessing to Muslims
Related: Jesus vs. Muhammad and Bible vs. Quran