How old was Mary when she had Jesus?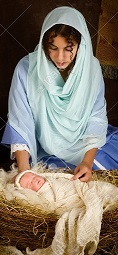 (continued from Errors in Quran)
It gets worse. For example, how old was Mary when she had Jesus?
Certainly, Mary wasn't as old as the lady on the right when she had Jesus? According to the Quran, Mary was actually older than the lady on the right when she had Jesus:
"Then she brought [Jesus] to her people, carrying him. They said, "O Mary, you have certainly done a thing unprecedented. O sister of Aaron, your father was not a man of evil, nor was your mother unchaste." - Quran 19:27-28
"And Mary, the daughter of Imran, who guarded her chastity, and We breathed into (her body) of our spirit; and she believed in the words of her Lord and of His revelations, and was of the devoutly obedient." - Quran 66:12
There are a number of Mary - also spelled "Maria" or "Miriam" in English - in the Bible. One of them is the mother of Jesus:
"Now the birth of Jesus Christ was as follows: after His mother Mary was betrothed to Joseph, before they came together, she was found with child of the Holy Spirit." - Matthew 1:18
But the Mary who is the "daughter of Imran" (spelled "Amran" in the Bible) and the "sister of Aaron" was the sister of Moses who lived in the 15th century BC:
"The name of Amram's wife was Jochebed the daughter of Levi, who was born to Levi in Egypt; and to Amram she bore Aaron and Moses and their sister Miriam." - Numbers 26:59
Therefore, unless Mary was 1,500 years old when she had Jesus - indeed, unless Joseph married a 1,500 year old virgin - Muhammad mistook two different women in the Bible as the same.
Why does the Quran contain such glaring errors?
The proximate reason is that Muhammad was illiterate and therefore could not read the Bible, and had only a vague and often incorrect knowledge of it.
The ultimate reason, of course, is that Muhammad was a false prophet who did not speak for God and who tried to cover up this and other glaring errors in his Quran with naskh.