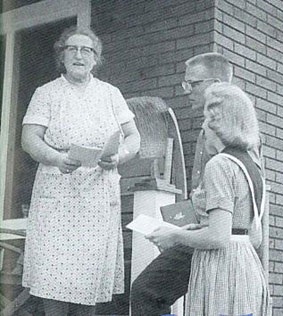 Founded by William and Betty Chapman, an American couple who gave Bibles to neighbors who didn't have but promised to read them (right), Bible League started in 1938 as "American Home Bible League", which subsequently became the "World Home Bible League", and eventually, just "Bible League".
Bible League has offices in over 40 countries, including Australia, Belarus, Bulgaria, Cambodia, Canada, Colombia, Dominican Republic, Egypt, England, Ethiopia, Germany, Kenya, Mexico, Moldova, Mozambique, the Netherlands, New Zealand, the Philippines, Romania, Russia, South Africa, Taiwan, Thailand, Uganda, Ukraine and Zimbabwe.
Strength
• Bible League couples Bible deliveries with Bible studies.
Weaknesses
• According to its published reports, Bible League in 2010 received revenues of $24.9 million, of which $5.4 million were spent on fundraising and $3.0 million on administration. The resulting 66.5% revenue efficiency ((revenues - fundraising - administration) / revenues) trails those of the other Bible organizations like Voice of the Martyrs and Open Doors.
• Some of Bible League's statements and statistics are obsolete and tarnish its credibility. For example, in 2012, its website still claims, "In China, a Bible is a precious commodity and sometimes, in rural areas, as many as 70-100 Chinese Christians share only one copy."
Bible League's 2010 revenues represent a 37% decline from the $39.4 million in 2008, when it placed 18.3 million Bibles and related literature in over 80 countries at a per Bible cost of $4. Its 2010 report does not mention the number of Bibles and related literature placed.
In 2011, Bible League "merged" with World Bible Translation Center (WBTC), whose president, the author of The Power of Positive Thinking, is now the president of the Bible League.